Hotique Luxury Hotels in Ibiza

Welcome to Hotique's selection of Boutique Hotels in Ibiza - including rural hotels, agroturismo hotels, finca's and stylish boutique hotels. Pick your perfect hotel from our hand-picked selection of the best luxury hotels in Ibiza.



Ibiza's Boutique Hotels


Ibiza is full of boutique hotels that are individually styled and full of character. From the stylish Es Vive, to the quiet Agroturismo hotels and villas, choose your very own boutique hotel that suits your style. Just remember to book early.

Ibiza Villas


For exclusive accommodation, consider renting one of our Ibiza Villas.

Villa San Lorenzo - Set in the beautiful countryside, a few minutes from Santa Gertrudis and 15 minutes from Ibiza town, this stunning 3 bedroom villa is exclusive to Hotique. Chill by the pool, pop down to Benirras beach, or drop in to the Atzaro spa close by. Perfect for a honeymoon, romantic week away or for a family or group.

Boutique Hotels Close to Ibiza Town
Ideal for a short break - stylish Ibiza boutique hotels close to  bustling Ibiza town:


Es Vive, Figueretas - Newly refurbished with a stunning pool area to chill out by, after a long night out.  Doubles from EUR163 (4 night minimum over weekends).

Ibiza's Rural Hotels - chill out
Most rural hotels are within 15-20 minutes of Ibiza town, so if your stay is more than a few days, try a small Agroturismo hotel for peaceful, lazy days chilling by the pool.

Agroturismos in Ibiza

Cas Gasi Agroturismo -   Summer Rates start at 300 Euros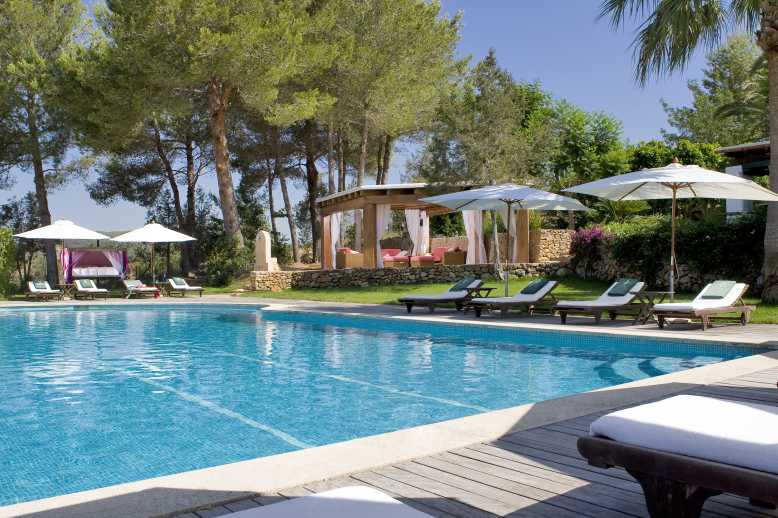 Cas Gasi is a beautiful Ibicenco style country house, located in the centre of the Ibiza countryside, close to Santa Gertrudis. It is approx. 12 minutes drive to Ibiza town, and the last few minutes is along a dusty track means Cas Gasi feels nicely secluded. Set in lush green gardens with palm trees and surrounded by orchards, almond trees and olive groves. Cas Gasi is the perfect place to escape to

Boutique Designer Hotel


Ses Pitreras - Ibiza's original design hotel - stylish interiors and pool area located on the west of the island in an urban area, close to Cala Bassa.


Clifftop hotel with views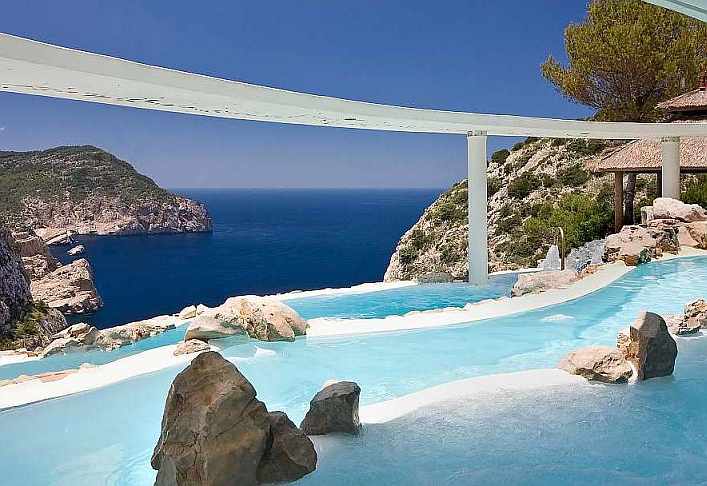 Hacienda Na Xamena has 65 rooms and Suites, each equipped with a Jacuzzi and unforgettable cliff top views. Located in the North of the island, Hacienda is a place to escape from the world. Don't miss the amazing Las Cascadas Suspendidas waterfall Spa overlooking the sea.

Contemporary hotel close to Santa Eulalia 


Aguas De Ibiza - 112 rooms and suites overlooking the port of Santa Eulalia. The rooms feature contemporary design with the all the latest technology, The hotel has 2 swimming pool, a rooftop chill out bar and the Revival Spa and Gym. It's also an easy walk to the town of Santa Eulalia, making this a great choice for families and groups.

 
Hotique Ibiza on Facebook



Like our Facebook page for all the latest boutique hotel offers and the best places to visit in Ibiza




Search for a luxury hotel in Ibiza




Cas Gasi
Ibiza, Spain
Cas Gasí offers accommodation in a genuine Ibicencan style country house, surrounded by orchards, almond trees, olive groves and its own vegetable garden all organically cultivated. Two pool areas ... View hotel

Hotel Es Vive
Ibiza, Spain
Slick, chic and unique, Hotel Es Vive is an art deco retreat with a cool relaxed ambience offering BBQ Pool Parties and Day time Dj's. Featuring its new Spa and rooftop lounge terrace... the perfe ... View hotel

View more luxury hotels in Ibiza